Keegan Quarries Ltd offers a broad range of specialist concrete mixes to suffice all requirements of our customers' both in the domestic and commercials markets. Our fully automatic computerised wet mix batching plants are located at Trammon, Rathmolyon, Co. Meath and the Millenium Business Park, Cappagh Road, Ballycoolin, Dublin 11.
Our range includes:
Fast Setting/ Slow Setting Concrete
Corrosion Inhibited Concrete
Sulphate Resistance Concrete
Abrasive Resistant Concrete
Early & High Strength Concrete
Self Compacting Concrete
Low Moisture Concrete
High Durability Concrete
Water Resistant Concrete
Freeze Thaw Resistant Concrete
Chemical Resistant Concrete
Semi Dry Concrete
Slip Form Concrete
Fibre Reinforced Concrete
Under Water Concrete
Pumping Concrete
Pile Mix Concrete
One of the Specialised Jobs undertaken by Keegan Quarries Ltd was supply of concrete with 40mm aggregate for floors in Dublin Airport Logistics Park finished with Somero S240 laser screed with about 800 m3 of concrete involved in this project.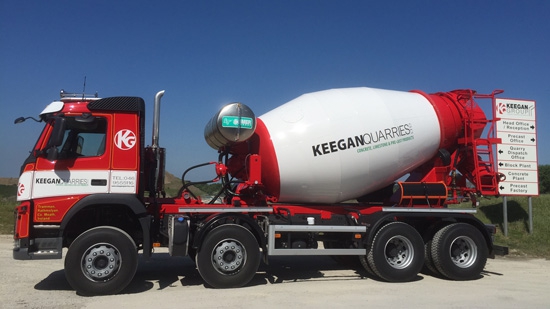 Our product portfolio also includes quarry products; stones, aggregates, sand and gravel, fill products and a wide range of blocks
A mixed design of concrete is available on request
For further information on any of our specialised concrete mixes
Contact our office today on
046 95 55 116